Over 40 years, the Muffin Monster® has come to symbolize uncompromised performance and technical leadership in municipal wastewater treatment.  With more than 35,000 installations they have brought their experience to treatment plants in every corner of the globe.
JWC's Muffin Monster® sewage grinders have been the first choice to protect vital sewage pumping stations for over 40 years. The grinders utilize a low speed and high torque design to shred through the toughest debris while also taking care of other troublesome trash like rags and wipes that find their way to the lift station.
For a sewage pumping station with dry well pumps, Muffin Monster® in-line grinders are commonly installed on the suction side.  The 30K Muffin Monster® grinders are equipped for mounting into 4" to 12" (100mm – 300mm) pipelines to grind down debris and protect the pumps from blocking.
Pump stations designed with submersible pumps choose JWC's open-channel Muffin Monsters® as an excellent solution to protect vulnerable stations within collection systems.  These open-channel grinders can be installed within stainless steel frames that mount to the wet well wall inlet pipe or in purpose built manholes before the pump station. The grinders will shred all debris and insure that everything is small enough to easily flow through pumps without damaging them but still large enough to not detrimentally bypass 6mm CSO and treatment work inlet screens.
Muffin Monster Dual Shafted Sewage Grinder
Low-speed, high torque grinder handles rags, rocks, wood, clothing, plastics and other debris
More powerful and capable of shredding a wider variety of solids than single shafted machines and macerators
Installation and Maintenance
In house designed guide rail frames available to make it easy to access the grinder
Semi-annual grinder inspection
Automated Monitoring and Controls
After start-up little to no maintenance required
Auto load sensing and reversals reduce interrupts and optimize the shredder's performance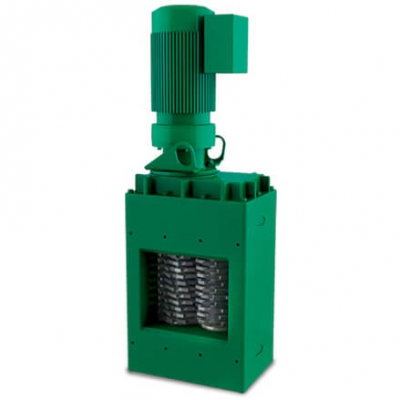 Wipes Ready™ Technologies Introduced
Pump ragging has been a problem known to wastewater treatment operators for many years. In the early 2000's the frequency and severity of the issue started to increase at an exponential rate.  The cause was the commercial success and rapid growth in the use of disposable wipes uses for personal hygiene, cleaning, and infant care.  These wipes are being flushed into sewage systems that are not designed to handle these resilient pieces of plastic.
As a response to this new sewage challenge JWC's engineers developed a suite of Wipes Ready™ technologies for the Muffin Monster® and Channel Monster® products. These patent pending improvements are designed to shred down wipes into small enough pieces so they will not reweave into ragballs in sewage systems.  While conventional two-shafted grinders will make long strips out of wipes that reweave into ropes, the Wipes Ready Technologies leave smaller pieces that stay in suspension and easy to handle by traditional sewage pumps.  The smaller pieces are then removed at the headworks of the wastewater treatment facility.
This technology advancement is a huge win for collection systems operators as well as private commercial property managers who have been fighting the wipes problems. All have seen a dramatic decrease or full elimination of pump clogs related with disposable wipes.