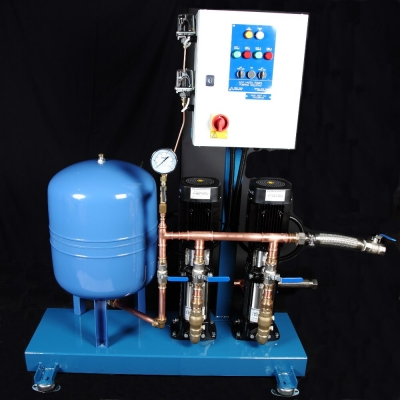 Description
The New Haden Newpac booster systems consist of one to four pumps connected in parallel and mounted on a common base frame with all necessary fittings.
As standard Newpac is supplied with the following components:
Base frame
Pumps
Inlet and outlet manifolds
Float switch as dry-running protection
Outlet-pressure sensors fitted to each pump
Non-return valves, one per pump
Isolating valves, two per pump
Pressure gauge
Diaphragm tank
Breaker box
Newpac is factory-tested and ready for operation on delivery.
New Haden Newpac 0.37 to 11kw
The pumps incorporated in this Newpac system are fitted with the new-generation MGE motors which are permanent-magnet motors with a high-efficiency frequency convertor. The motors ensure an even higher efficiency than the previous version of the booster system. The MGE motors have a total efficiency level defined for fixed-speed motors. Newpac boosters with pumps in this range offers additional functions:
Multimaster function
Pipe-filling function
Predefined setpoint
External setpoint influence
Limit-exceeded function
Applications
The New Haden Newpac booster systems are designed for th transfer and pressure boosting of clean water in places such as
Blocks of flats
Hotels
Industry
Hospitals
schools
Benefits
Plug-and-pump solution
Newpac booster is supplied as a complete preassembled system mounted on a base frame. The only task left is to connect the pipes and the power supply.
User-friendliness
Newpac is a highly intelligent booster system which is capable of controlling one to four speed-controlled pumps in cascade. Newpac is one of our most simple booster systems to start up and operate. It has only two buttons for complete control of the system.
Perfect constant-pressure control
The speed-controlled pumps are perfectly controlled and adjusted by the PI controller is protected inside the pump and this has proven to be a very reliable solution.
Multimaster function (0.37 to 11kW)
All pumps that have an outlet-pressure sensor connected are capable of taking control of the entire booster system. This means that the system will continue to operate as a booster system even if one or more of the pumps or sensors are unavailable. Compared to systems with only one sensor, this makes Newpac an extremely reliable solution with a high level of redundancy.
Redundant Sensor (0.37 to 11kW)
No system is more reliable than the weakest component. In connection with booster systems, it is common to rely on only one pressure measurement. However that makes the operation extremely dependent on one single sensor. We do not depend on one sensor (single point of failure) as the booster system is supplied with an outlet-pressure sensor for each pump.
Tested and ready to use
Before delivery, all Newpac systems are carefully tested i.e. pressure-tested and tested for full functionality.
Low energy consumption
Newpac ensures low energy consumption through speed-controlled pumps, automatic cascade control of the pumps and highly efficient low-flow operation. The highly efficient motors and pumps also contribute to the overall high efficiency.