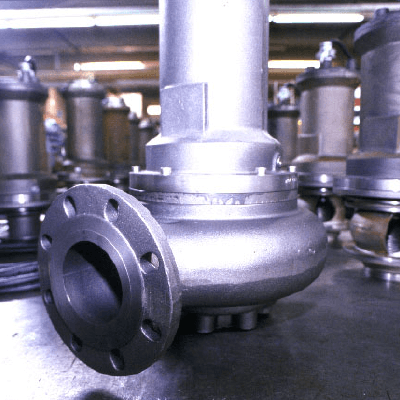 Established in 1964, New Haden Pumps have been successfully serving the UK industry for over 50 years.
The current Directors have in excess of 100 years' combined experience in the pumping industry.
NHP are a privately-owned company with decades of history and experience stemming back to the days when they were owned by Ritz Pumpenfabrik.
NHP are proud to still have a strong association with Ritz, and are sole agents in the UK for their pumping products.
For more than 130 years the name 'Ritz Pumpenfabrik' has stood for highest reliability and quality. "Made in Germany".
OPEN AND TRUSTWORTHY
At NHP we "do what we say, and we say what we do". Our communication is open and honest among ourselves, and with our customers and clients. We put the facts on the table from day one and do not supply any systems that we are not 100% confident with.
FOCUSSED ON PEOPLE
At NHP we are proud to say that our staff are key. Many of them come to us straight from school or college and work their way through the company. We are keen to promote from within and support all staff with continued professional development.
Everyone in NHP is employed direct.
Everyone in NHP has passion and potential.
Everyone has the power to influence.
Everyone must feel respected and valued.
INDEPENDENT
NHP is a privately-owned company. This provides the great flexibility to move with the times yet keep the traditional values established over many years of business.
PARTNERSHIP
NHP creates value through close relations with customers and clients. We are a nationwide UK based company building on locally sourced materials and skilled labour.
RELENTLESSLY AMBITIOUS
We take pride in delivering premium quality in everything we do and are always looking to improve on our products and services.
SUSTAINABLE
New Haden Pumps runs its business in a responsible and ever more sustainable way. We offer products and solutions that help our customers save natural resources and reduce climate impact.
We take an active role in the neighbouring community and endeavour to employ local members of staff all of whom are encouraged to walk, car share, use public transport to and from work again limiting their carbon footprint.
Wherever possible the by-product of the manufacturing process and all packaging is recycled.
Our company vehicles are slowly but surely being changed and upgraded to hybrid or low CO2 emission models.
An established company with a wealth of knowledge and experience
Quality German manufactured pumps that have been tried and tested over many years
Technical assistance and guidance throughout the clients design of the project
Bespoke packages to suit the site and client's requirements
Full job specific M&E drawings, wiring diagrams and O&M manuals produced
BIM models and 3D CAD drawings available
Supply, installation & commissioning by our fully qualified engineers
Commercial – Office, high rise buildings, mixed- all staff employed direct, Not sub-contracted use schemes, Shopping centres, government buildings
Rail Work – London Underground, Crossrail, Network rail, Airport rail
Industrial – Power stations, factories, food process plant, recycling centres, landfill
Water authority – Potable and foul water pumps, sewage treatment works, sewers for adoption.
Transportation – Airports, Bus stations, Railway stations, Motorway service stations, Underpasses, Carparks
Healthcare – Hospitals, Residential care homes, Medical centres, Science/Laboratory buildings
High security – Prisons, police stations, science, MOD
Leisure sector – Swimming pools, Hotel, Spa resorts, golf course, tennis centres, Caravan parks, Residential and Holiday
High-end / Luxury housing – Multiple story and deep multi-level basements
Traditional residential schemes – Multi houses/ single dwelling
Housing Estates – Private / adoptable pump stations
Design Engineering Consultants

Building Services
Civil & Structural
Infrastructure
Manufacturing

Housing developers
Contractors – Traditional and Design & Build

Civil (Groundworks)
Mechanical & Electrical

End users – Owner occupiers
Facilities management & maintenance companies